About The Show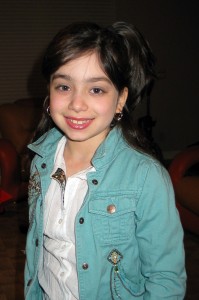 My name is Becky and I am the host of the American Web Show.  I was born and raised the in the United States.  My passions include: acting, singing, song writing, dancing, art, and martial arts. I am currently in the process of finishing writing lyrics to my new songs, so stay tuned as we are about to make it happen in a very short period of time.  I am very excited and can't wait to share my songs with you! The American Web Show is fun for people of all ages to watch because it combines: education, imagination, and fantasy.  It's important to have these aspects in any movie to make it enjoyable to watch.
Education:
Some episodes are educational.  One of my first episodes was "learn to say numbers and colors in Spanish."  Another episode is about "healthy eating".   We will definitely be expanding on the education topic in future episodes.
Imagination:
With my producers, we work together to come up with interesting ideas to make these episodes unique and different from others.
Fantasy:
Fantasy is part of our daily lives.  And on the American Web Show, we take a small idea and build it into a fun, fantastic story with interesting characters and plots. We release a new episode almost on a weekly basis.  We closely monitor our audience's comments  and reviews to build on their suggestions and likes to make each episode better than the last. If you would like to make a suggestion on what our next episode should be about or just want to let us know how we can make the show better, please e-mail us at:
fans@webshow.org
See you soon!!! Becky