Applying Stage Makeup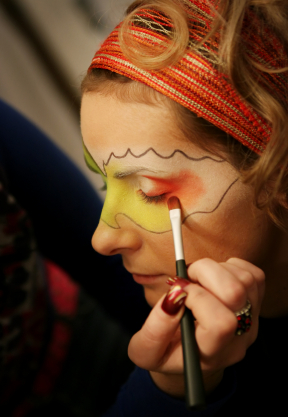 Every young actor needs to know a thing or two about stage makeup and how to apply it correctly. The main thing to remember is that stage makeup is meant to enhance your character's appearance for the performance, not make you look older or more mature than you actually are. Use these tips for applying stage makeup the right way.
When to wear stage makeup
Any time you're performing on stage in front of an audience, you want to apply stage makeup. This is because you'll be standing far away from those watching, which can make it more difficult for them to see your facial expressions. Stage makeup will help enhance the mouth, cheeks and eyes for greater visibility. Also, the bright lights of the stage can create shadows and highlights across a makeup-less face that can wash out your appearance.
Before putting together a video clip or web show, you may want to consider applying makeup as well. You won't need to put on much; apply just enough to enhance your natural facial features by creating a "blank slate" for the camera's light. A little foundation, a little blush and lip balm or lip gloss are generally all you'll need. 
How to apply
Before applying stage makeup, wash and dry your face and put on an oil-free moisturizer. Then, follow these steps:
Apply a light foundation. If you're performing on stage, a slightly heavier foundation one shade darker than your natural skin color is fine. If you're performing in videos online, opt for a dusting of foundation powder in your skin's natural tone.
Apply blush on the apples of your cheeks. A girl should opt for pink while boys should choose a terra cotta color, or an orange-brown. Again, stage performers can apply blush in a more pronounced manner than those performing on film.
Apply eye makeup in an age-appropriate fashion. Young actors performing on stage can usually get away with eyeliner and brown or tan eyeshadows; however, actors on film should only apply eye makeup if it's appropriate for their age. If you're a tween or teen who wears makeup on a daily basis, feel free to apply natural-looking eyeshadow, liner and mascara. If, however, you're not yet allowed to wear makeup, there's no need to put it on for your web show.
Set your stage makeup with a translucent powder.
Apply lip stick, balm or gloss. Stage performers will likely want to wear a brighter lipstick to help their lips appear natural from the stage, but web performers should only apply lip makeup if it's appropriate for their age.
Article by Laura Williams